State Facts
Alaska was the 49th state to join the union. It became a state on January 3, 1959.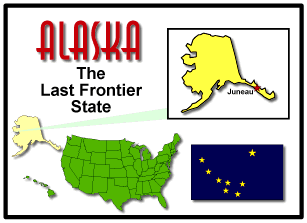 Capital - Juneau
Abbreviation - AK
Nickname - The Last Frontier
Motto - North To The Future
Song - Alaska's Flag
Bird - Willow Ptarmigan
Flower - Forget Me Not
Insect - Four Spot Skimmer Dragonfly
Area - approximately 656,425 square miles
Websites for studying about Alaska
From the State of Alaska: Education, safety and nature information.
Worksheets and puzzles for kids to learn more about Alaska
From the University of Alaska Anchorage
From the State of Alaska Official Alaska State website
Fun Educational Activities
Information about Alaska. State study guides have been added to the Fast Facts pages
From TeachersFirst. A comprehensive resource on Alaska
From the Library of Congress. Games and stories of America's past.
Facts & Trivia about Alaska
Unique tourist attractions and landmarks in Alaska
Loads of fun facts, photos, and travel information about Alaska.
Nothing will guarantee your safety in bear country, but knowledge of bears and proper behavior greatly reduce your risk.
Endangered and Threatened Species of Alaska Curriculum
The teaching packet to teach students about biodiversity and endangered wildlife.
Sea Ducks of Alaska Activity Guide
A hands-on Activity Guide for grades 4-6.
Chugach National Forest Photos
WOW!!!
Role of Fire in Alaska Unit Study
Alaska forest and tundra fires burn thousands of acres each year, affecting Alaskans throughout the state. Whether these fires are a result of natural events, prescribed burns, or human accident, they effect Alaska's ecosystems, wildlife, and economy. This curriculum was designed to help Alaskan students learn about the role of fire in boreal forest and tundra ecosystems.
The "Learn About Seabirds" curricula is for grades 4-6 and is designed to teach students about Alaska's seabird populations, their worldwide significance, and the impacts seabirds are vulnerable to.
Alaska's Wild Salmon Teacher's Guide
Alaska Digital Wildlife Photography Handbook
This 10-page handbook is written for students 4-12th grade. It contains great tips about digital photography as well as wildlife photography. Download is free
Alaska: Facts, Map and State Symbols
From Enchanted Learning,com
Alaska:The Last Frontier State
Mr. Donn has been online for as long as I can remember and he has one of the largest collections of social studies resources available. This is his collection of Alaska resources.
Gene Conservation Lab Kids Page
Hi kids! This web page is about fish, fish and the State of Alaska. If you're grade-school age, then this page is for you. If you are older than that, you might still be interested; but, you better get the permission of a grade-schooler to continue. In this page you will find pictures of Alaskan kids catching all kinds of fish. You will read fishy stories, including the salmon story.
Alaska Department of Fish & Game
From SLED: Statewide Library Electronic Doorway.
Eight Stars of Gold: The Story of Alaska's Flag
The Alaska State Museum designed its online resources site to give teachers, students and families access to the Museum's current exhibits and collections. Using historical information and guided interpretation, students can visit and learn from exhibits which they may not have the opportunity to physically view. All activities and lesson plans are correlated to the Alaska State Content Standards in a number of disciplines, including the Arts, English/Language Arts, Social Studies and Mathematics.
Thanks to graphicmaps.com for the state graphics