State Facts
Arizona was the 48th state to join the union. It became a state on February 14, 1912.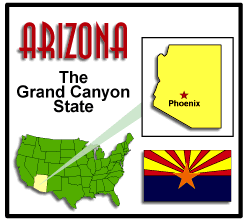 Capital - Phoenix
Abbreviation - AZ
Nickname - Grand Canyon State
Motto - "Ditat Deus" - God Enriches
Song - Arizona March Song
Bird - Cactus wren
Flower - Saguaro Cactus Blossom
Insect - Two-tailed Swallowtail
Area - approximately 114,006 square miles
Websites for studying about Arizona
Fun Educational Activities
Arizona SOS for Kids Activity Book
Arizona Activity Book published in 2017
Information about Arizona. State study guides have been added to the Fast Facts pages
From TeachersFirst. A comprehensive resource on Arizona
Mr. Donn has been online for as long as I can remember and he has one of the largest collections of social studies resources available. This is his collection of Arizona resources.
From the Library of Congress. Games and stories of America's past.
Facts & Trivia about Arizona
Unique tourist attractions and landmarks in Arizona
Loads of fun facts, photos, and travel information about Arizona.
EnchantedLearning.com
Students will use various Web sites to investigate the plants, animals and people of the Arizona desert. Grades 4-5.
Treehouses on the Tree of Life
Treehouses are Tree of Life pages designed for kids, teachers, and the young at heart. The information found on treehouses complements the scientific core content presented on Tree of Life branch and leaf pages.
Worksheets and puzzles for kids to learn more about Arizona.
From the Office of Governor Doug Ducey
Kids Voting Arizona is a nonprofit, nonpartisan, grassroots-driven voter education program.
Arizona Virtual Field Trips
Kartchner Caverns State ParkBenson
Virtual field trip onlineGuided cave tours, Discovery Center, interactive displays, theater with video program, gifts shop, restrooms, telephones, food vending machines, lockers, amphitheater
Pioneer Living History VillagePhoenix
Virtual field trip onlineSee the Opera House where Lilly Langtry sang; look through a rifle port in the actual cabin that survived Arizona's bloodiest range war; laugh your way through a "melodrama"; or browse through an 1890's dress shop and much more! All of this, plus a blacksmith shop, sheriff's office and jail, complete ranch complex, and costumed interpreters including cowboys, lawmen, and lovely Victorian ladies - await you at Pioneer Living History Village, Arizona's most authentic Old West town.
Thanks to graphicmaps.com for the state graphics