State Facts
California was the 31st state to join the union. It became a state on September 9, 1850.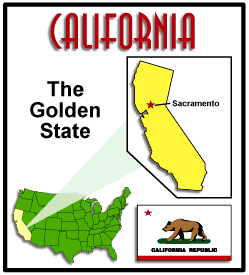 Capital - Sacramento
Abbreviation - CA
Nickname - The Golden State
Motto - Eureka - I have found it
Song - "I Love You, California"
Bird - California Valley Quail
Flower - California Poppy
Insect - California Dog-Face Butterfly
Area - approximately 163,707 square miles
Websites for studying about California
California State Symbols Games
Worksheets and puzzles for kids to learn more about California
A to Z Kids Stuff - California
Fun Educational Activities
Information about California. State study guides have been added to the Fast Facts pages
From TeachersFirst. A comprehensive resource on California
Mr. Donn has been online for as long as I can remember and he has one of the largest collections of social studies resources available. This is his collection of California resources.
Explore the States - California
From the Library of Congress. Games and stories of America's past.
Facts & Trivia about California
RoadsideAmerica.com - California
Unique tourist attractions and landmarks in California
Loads of fun facts, photos, and travel information about California.
EnchantedLearning.com
Kids' literature featuring California
From balmy beach towns to Sierra snows, from desert palms to redwood forests, there is almost everything you could imagine in this state. Traveling in California with kids, stand among trees 1,000 years old, fly a Chinese kite in front of the Golden Gate, ride rapids through Gold Country, boogie board on endless beaches, get your picture taken with Minnie or Mickey Mouse at Disneyland, pet a baby cheetah at the San Diego Zoo, or watch the waves break at Big Sur. Don't miss the top picks section for children's books on California.
John Muir National Historic Site
John Muir: Man of the Mountains. The site preserves the Victorian home of the noted author and preservationist. Surrounded by almost 9 acres of fruit orchards and 326 acres of oak woodland, the site today is just a small piece of the original 2,600 acre ranch. The United States is forever indebted to the "Father of the National Park Service" for helping to preserve this country's greatest treasures.
California Virtual Field Trips
California Academy of Science CenterSan Francisco
Virtual field trip onlineThe new Academy's building will feature many exciting exhibits including the Rainforest, Pendulum, Planetarium, California Coast, Swamp, and more.
Martinez MuseumMartinez
Virtual field trip onlineOur present displays are part of the on-going effort to keep interest alive in our community's history and encourage repeat visitors. All displays, cataloguing, housekeeping, gardening, and other duties are performed by volunteers.
MCRD Command MuseumSan Diego
Virtual field trip onlineThe MCRD Command Museum boasts one of the most extensive and comprehensive displays of Marine Corps historical items in the Nation.The Museum has over 150,000 annual visitors and occupies 22,233 square feet of indoor space.
Paso Robles Pioneer MuseumPaso Robles
Virtual field trip onlineA walk on the grounds of the Pioneer Museum takes one back in time. An El Camino Real bell marks a walkway past a jail and farm equipment to a one-room schoolhouse.
Petersen Automotive MuseumLos Angeles
Virtual field trip onlineExplore the evolution of the Automobile and its impact on our culture. Experience the last 100 years of automotive history at our museum and here on our web site. There is always something new to discover for the whole family.
USC Fisher Museum of ArtLos Angeles
Virtual field trip onlineDiscover art spanning five centuries at USC Fisher Museum of Art, the museum of the University of Southern California and the first museum established in Los Angeles devoted exclusively to the exhibition and collection of fine art.
Whitaker-Jaynes Estate and the Bacon House MuseumsBuena Park
Virtual field trip onlineCome see new museum displays including the Lynx Women's Softball Team from the 1940s, a pictorial history of Buena Park's entertainment venues and photos of the Dreger Clock in various stages of its "life".
More California field trips ...
Thanks to graphicmaps.com for the state graphics